Hulda Clark Zapper
Note - product is currently unavailable. We are out of stock of key components.
Please contact us for more information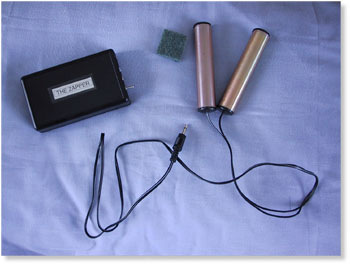 ZAPPER (ZHC2)
Pocket size
Blood cleansing
Low battery indicator
Immune stimulation
Simple to use
Safe - short period of exposure
Copper handholds
Pain relief
Hulda Clark design
Promoted in the book "The Cure for All Diseases" by Dr Hulda Reghr Clark (1995 Promotion Publishing, SanDiego USA ISBN 1-887314-02-4)
In this book, Dr Clark gives the schematic for a frequency generator "zapping" device. "Electricity can now be used to kill bacteria, viruses and parasites in minutes, not days or weeks as antibiotics require…. Any positively offset frequency kills all bacteria, viruses and parasites simultaneously, given sufficient voltage (5 to 10 volts), duration (7 minutes) and frequency (anything from 10 Hz to 500,000Hz)"
Our zapper is based on a similar circuit to the Clark design and includes a low battery indicator so you know when to replace the battery. It is simple and safe to use and comes with full instructions. View instructions by clicking here.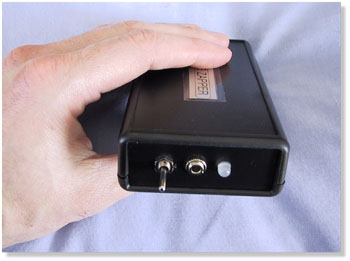 It is not yet clearly known the exact mechanism that is doing the "zapping"and it may be that several factors are involved, such as stimulation of the immune system, or alterations to the cellular membrane, or changes to the electric potential of the cells.
All microorganisms radiate or resonate at a specific frequency. Royal Raymond Rife called this the Mortal Oscilatory Rate (MOR) for that organism. Basically, this means that if that specific frequency were applied to that organism, then the organism would be mortally damaged. It is very similar to the opera singer who is able to reach the resonant frequency of a glass tumbler. The result? The tumbler shatters into a million pieces.
According to Dr Clark the frequency does not matter, and the intermittant voltage need not be high.
The zapper has been around for several years and has a worldwide reputation for achieving what it says.
TECHNICAL INFORMATION
Uses one 9v battery
Produces a positive offset square wave of approximately 10v at 30 khz
Unit size: 110 x 67 x 27mm
Comes complete with copper handholds/leads, nylon polish pad and instructions
Caution: Do not use this device if you are pregnant or wearing a pace maker. Experimental use only. Please see our disclaimer page.
Special low price! NZ$99
Click on the PayPal button to order:
Or CLICK HERE for our ordering page.
Disclaimer: The information given is for experimental and educational purposes only and no medical claims are made or implied. Bettalife4U accepts no responsibility for any ill-effects or otherwise as a result of the use of devices or application of information and statements made on this website. The opinions, conclusions expressed in these pages are Bettalife's alone, unless otherwise stated or quoted.